text.skipToContent
text.skipToNavigation
VIGOROUSLY THROUGH THE CRYOLITE

IMI Norgren's crust-breaker passes the test at Aldel
The smelting of aluminium requires breaking through a thick crust of cryolite, countless times in a row, at high temperatures. For Damco Aluminium Delfzijl Coöperatie (Aldel) therefore, using an ordinary cylinder was not an option. This in contrast with the new crust-breaker. Designed by IMI Norgren and supplied by itsme, this cylinder will last for years and is good for many breakings through.
About eighty furnaces. More were not in use when André van der Ploeg started working for Damco Aluminium Delfzijl Coöperatie (or: Aldel). The company had just rebounded from bankruptcy and processes were  carefully being started up again. And now look: not even two years later 230 out of a total of 304 furnaces are in operation. Spread over two enormous halls they ensure the production of liquid aluminium that, once solidified, finds its way to industries at home and abroad.
It would be strange if André and his colleagues won't be able to use all 304 furnaces in a short while. "Our company has grown considerably, and still does. When I started here, we employed 170 staff on a permanent basis. Now we fortunately have twice that number."  says André. ​​​​​​Here in Farnsum, in the municipality of Delfzijl in the north-east of Groningen, a company like Aldel is a major provider of regional employment. André himself works for the aluminium manufacturer as an asset manager, responsible for the integrity, availability and maintenance (preventive and corrective) of the installations in the two giant halls.
Exciting work, is what he calls it. "In these halls it is all about delivering liquid aluminium to our foundry. And that is a continuous process involving a lot of work." 
950 degrees Celsius
Smelting aluminium is done under special circumstances. Think of it as heavy industry, with each furnace containing a thick layer of cryolite at an average temperature of 950 degrees Celsius. Adding alumina results in pure aluminium through a process of electrolysis. 
"Every 24 hours two tons of alumina is put into an oven"
Adding alumina at random doesn't make sense, says André. The raw material has to be pushed through the crust of cryolite. In each oven this is done by two cylinders that break through the crust countless times.
"Every 24 hours we add two tons of alumina to the content of a furnace. We do that in doses of two kilos each, which means that each cylinder breaks through the crust more than twenty times an hour."

Maintenance was urgently needed
The current cylinders in the Aldel furnaces do work, but are also old. On the new start, maintenance turned out to be very urgent, but the revision did ask a lot from the problem-solving abilities of André and his colleagues. "Our current cylinders are no longer produced. Fortunately we still had a reserve stock and we can also make use of cylinder parts from furnaces that are still out of order. But that is a temporary solution. Especially now that we are going to use ever more furnaces." So André went looking for a new cylinder. Direct contact with a manufacturer would perhaps have been obvious, but André didn't really fancy that. "For how, then, had I known we would get the best solution here? I opted for certainty. And therefore I deliberately contacted itsme, with whom we have been working together for many years. itsme supports us with electrical engineering and mechanics, delivers quickly and is brand-independent. And the latter is exactly what I found relevant to our query."

Not just some random brands
So therefore, André received several offers last year from Herbert Sturing, product service marketeer pneumatics at itsme. This after a thorough selection process, says Herbert. "We didn't just randomly choose some brands, but made a conscious selection based on Aldel's needs. At itsme, we are at home in pneumatics and have the know-how to sketch a complete picture of the possibilities. It is that which ensures an optimal connection between customer and manufacturer." 
"A lot of time and energy has been put into this; and with success."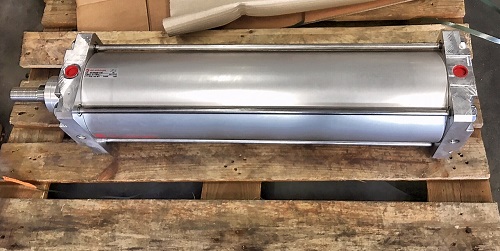 Of the three suggestions, that of IMI Norgren turned out to be the best. Partly because of the detailed design, but according to André also because of IMI Norgren's experience with this kind of cylinder. "The company leaves nothing to chance; as it turned out with this as well. Just like Herbert,  Erik de Jager of Norgren, too, was here regularly and together we came to the right solution. All those involved, put a lot of time and energy into this project. And with success."
For now, it concerns only one copy of the Norgren cylinder. At a weight of almost eighty kilos, and with a piston of twenty centimetres in diameter and a stroke of seventy centimetres, since the end of the summer of 2019 the crust-breaker does its work with full force, much to André's satisfaction. "The cylinder works flawlessly. For us, this is the starting point. From now on we know which cylinder to buy. Because for us it is clear that more will follow."
​​​​​​​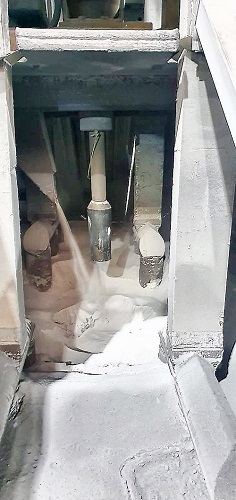 ​​​​​
Matter of trust
Heavy, industrial processes: this is the world of IMI Norgren that at the end of last year provided Aldel with a rugged crust-breaker. Erick de Jager, sales engineer at IMI Norgren, looks back with pleasure on the process. "In the end it is all a matter of trust. Trust in each other's know-how, but also trust in fulfilling commitments. In this project we were an extension of itsme in the direction of Aldel. And that went well; the cylinder works as it should do. Aldel can get on with it, so much is certain."
​​​​​​​

​​​​​​​ 
Falling down, standing up and greening
The history of Damco Aluminium Delfzijl Coöperatie (Aldel) is an eventful one. Since its foundation in 1966 the company has gone through multiple bankruptcies and take-overs. Meanwhile, greening plays a very important role at Aldel, for instance fitting the two production halls with 50,000 square metres of solar panels. Less CO² emission, an increased use of sustainable energy: the future of Aldel is just as rosy as it is green.
You might also be interested in this:
Re-engineering
A one-to-one replacement is not always self-evident within pneumatics. Systems age, parts go out of production. How do you solve that, while you would like to continue with production? With our re-engineering for pneumatics we convert a phased out product into a modern drop-in alternative. Our range is wide, includes multiple brands and therefore provides many options. Also for you.
Read further
Engineering support
itsme Industrial Automation knows your world. We don't just say that, we also show it. When we visit you, we don't take a passive approach; itsme Industrial Automation knows your world. We don't just say that, we also show it. When we visit you, we don't take a passive approach. We take action and get straight to work for you. That pro-activeness defines us. Its effectiveness can be clearly seen in our engineering support services.
Read further